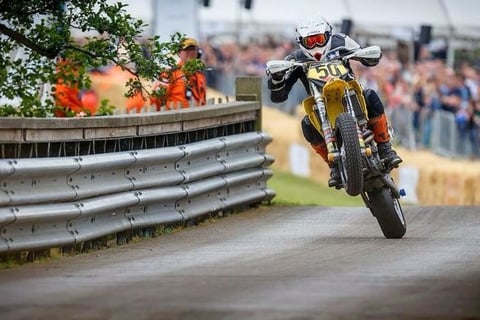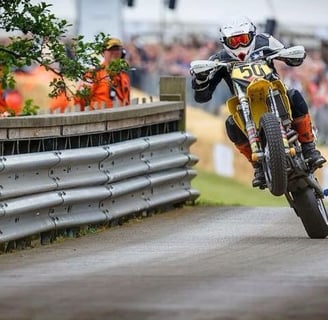 Dave started competing in trials aged fourteen years old. He continued until he was sixteen, when he moved over to motocross after a brief stint of amateur boxing. He started racing local AMCA in 1977, then competed in AMCA championships in 1980 and 1981, after which he moved over to the ACU ranks. He competed at national level from 1982 until 1993, winning the North West Centre Championship three times and finishing 5th in the British 4 Stroke Championship in 1992. He competed in selected National Enduro's and in 1989 competed in the International Six Days Enduro in Germany. He was also the first rider to represent the centre at both Motocross and Enduro, being the first and the only rider to do it in the same year.

In 1993 his racing career was curtailed by a serious foot and leg injury. It was at this time that he was offered a dealership for Husaberg. He had been racing Husaberg's since 1990, when his father Jack Clarke and friend Brian Todd imported five Husaberg's from Sweden, for Dave and Gerant Jones to race. These were the first Husaberg's to be imported into the UK. In 1997, after running a successful dealership, he became Europe's top selling dealer. In 1999, Dave was offered the chance to become the UK Importer, this was after several changes of importer causing Husaberg UK sales to be adversely affected. Up until the November of 1999 when Dave took over, only 12 bikes had been sold.

The first dealers to come on board at the beginning of 200 were Gary Grover Racing, SR Off Road, S + S Racing and Jim Aim Motorcycles. They were joined part way through 2000 by NTB. In 2000, bike sales increased to 55 bikes. With a growing, enthusiastic dealer network and an improving product, Dave became the world's top selling importer in 2002, 2003 and 2004, selling 426 bikes in 2003/2004.In 2003 Dave set up the DCR Supermoto team, comprising of Christian Iddon, Andy Mitchell and Dave Foster, who went on to win both British Championships and also the manufacturers trophy.

In 2005, Dave assembled the biggest Supermoto team ever seen in the UK, nicknamed by some as the "dream team"! The riders were Christian Iddon, Andy Mitchell, Rob Cross, Leighton Haigh and Sam Warren and Belgian ace Fred "Fiostar" Fiorentino. This team totally dominated British Supermoto that year. This was followed by another successful year in 2006 with Andy Mitchell and Irish rider Greg Kinsella being crowned Norasport and Irish Championship Open and 450 class champions respectively.

In 2007 Greg won the Irish Championship again, bringing the DCR tally of National Supermoto titles to sixteen. However at the end of 2007 the decision was made by KTM UK to end their association with DCR, stripping him of his dealership. Dave had to diversify the business, building up the Michelin tyre and workshop side of the business. Throughout this period he still looked after existing Husaberg customers, who came from all over the UK due to Dave's experience and knowledge of the Husaberg brand.

Fast forward up to 2019...up until a couple of years ago Dave was still competing in selected events, still riding a Husaberg! DCR is still heavily involved in the Supermoto scene and has been running the tyre support service for Michelin at the British Championship since 2011. This was alongside supporting young upcoming riders from all disciplines.
Some of these racers have moved on to become big names in the British Superbike and Supersport fields, namely Christian Iddon and Davey Todd. We also support British MX and Enduro, you will see us providing a Michelin tyre support service at the MX Nationals and are proud to support young riders Rossi Beard, Luke Goodwin and Harry Foster. In the Enduro field we continue to support the talented rider Jane Daniels.
If you see us at any event please come and see us for a chat or a good old cup of Lancashire tea, the kettle is always on!